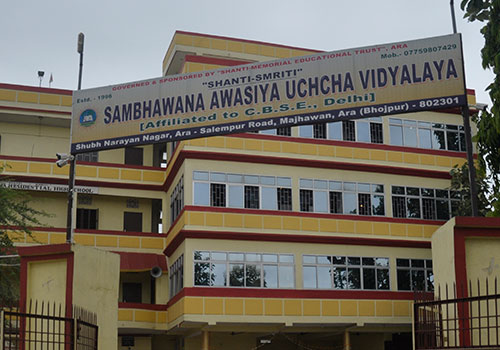 Pre -Primary Stage(PRE to UKG)
English
Hindi
Mathematics
Music
G.K
Drawing and Colouring
Primary Stage (Classes I to V)
English
Hindi
Mathematics
Social Science
Science
Environmental Studies
Sanskrit / Urdu
Moral Science
G.K.
The Art of Healthy and Productive Living.
Upper Primary Stage (Classes -VI to VIII)
Hindi
Sanskrit / Urdu
English
Social Science
Science and Technology
Environmental Studies
Mathematics
G.K.
Art. Education
Work Education
Health and Physical Education
Secondary Stage (Class IX and X)
Hindi / Sanskrit / Urdu (Optional)
English
Social Studies
Science
Mathematics
Environmental Studies
Work Education
Art. Education (Fine Art -Visual and Performing)
Health and Physical Education (Including Games and sports, Yoga. NCC, Scouting and Guiding)
Academic Council
An academic council has been organised with objective for effective implementation of the teaching plans. This council directs and encourages the teachers in the school to create healthy atmosphere for the academic working plans for new session and complete the syllabus in time.
Assembly and Moral Education
The morning assembly is celebrated daily before the classes start to develop the moral value in students, it includes recitation of devotional songs and thought for the day. It stresses on development of good habits, expression of thoughts and creation of peaceful environment in students.
Examination
Students are Accessed by the continuous and comprehensive Evaluation System (CCE System) adopted by C.B.S.E Delhi, through Out the whole session. There are two terminal examinations / Summative Assessments (SA) then Followed by four Formative Assessments (FAs),
Result
The Result is Declared after 25 Days of the completion of each Term (SA). A progress Report of the Student for his scholastic as Well as Co-Scholastic improvement is given to the Guardians/ Parents that after proper verification and signature the progress report is to be returned in the school within three days.
Promotion is granted on the Basis of whole year's performance.
There is no schedule of Re-examination for those students who are failed to appear in the examination in any circumstance.
Attendance
75% Attendance is essential for promotion for the next higher class.
No Leave is granted except on prior application from parents / guardians for genuine reason.
Vocational Subjects
Special teaching management has been done for the students in Computer, Painting, Singing, Music, Dance, Acting, Handi-craft, Yoga, meditation and sensing etc. along with the subjects included in the syllabus. It is compulsory for each student to take one subject separately for studies from these all.
Syllabus Books
Books published and recommended either by NCERT or any other publication, but it should must be cover all the syllabii of NCERT, are taught to the students from Class Ito X in the School.
Promotion
Promotion is granted on the whole year's performance of a student hence the importance of regularity in attendance and work is imperative.
Minimum attendance for appearing in annual examination should be 90% or more.
Normally a student will be required to secure 40% marks in every subject to get promotion
Regarding promotion or failure, the Principal's decision is final.
General Discipline
Books published and recommended either by NCERT or any other publication, but it should must be cover all the syllabii of NCERT, are taught to the students from Class Ito X in the School.
Valuables
It is not advisable for students to bring valuable articles to the school. The school will not be responsible for the loss of books, valuables etc. They are advised to bang their belongings in a bag or case that can be properly locked.
Visiting Hours
Visitors, including parents should not visit the class rooms and are not allowed to interview the class teacher during the school hours. They may meet the teacher after seeking appointment after class hours, preferably on day of Parents-teacher meeting. If they have any grievance or they want to make any suggestions, they may do so the Principal between 11:00 a.m. to 12:00 noon.
Session
1st April to 31st March as prescribed by the C.B.S.E. Board, New Delhi.